Rest, Recharge, & Regulate: Essential Soft Skills for Superhero Musicians
Nov 14, 2023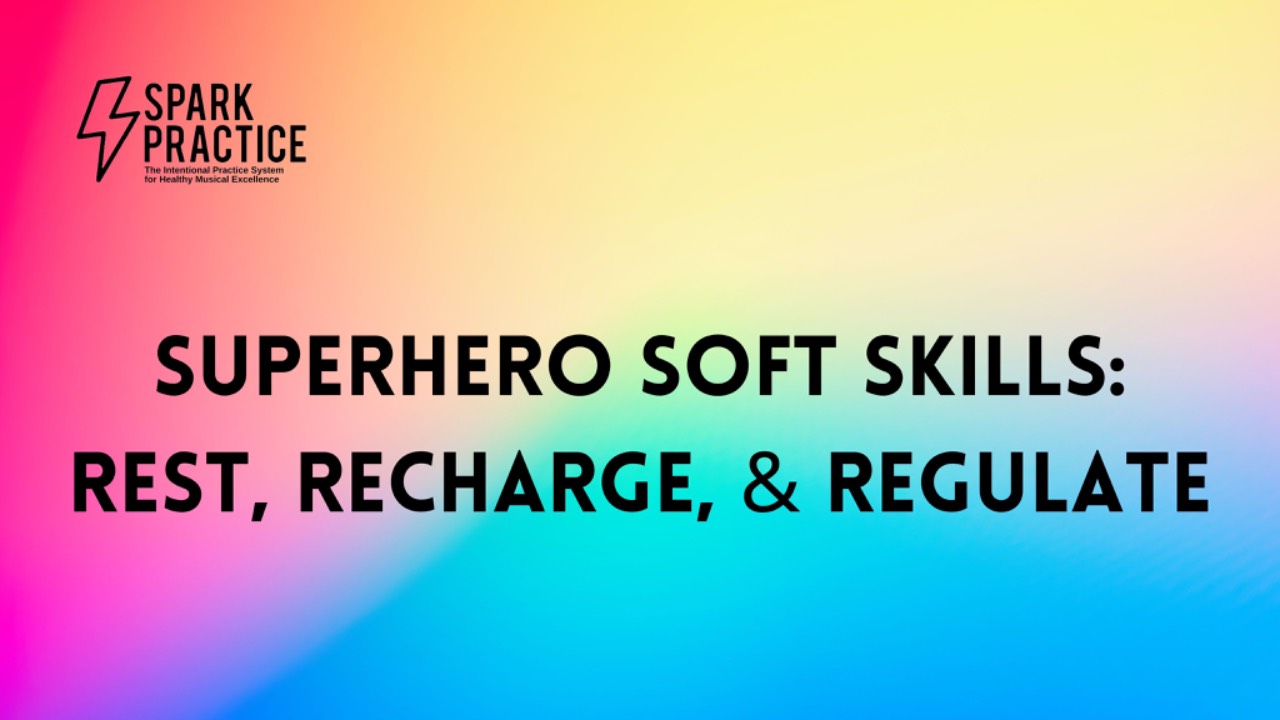 Rest, Recharge, and Regulate: the trio of essential "soft skills" we need as the superhero musicians we are.
Hey friends, welcome to the pre-winter burnout season. So here are some of your superhero essential tools to get grounded & centered through the storms of audition deadlines and the push to the end of the term.
😴 REST
The research shows that we actually make more progress (& more quickly) when we rest. This is when our bodies and minds make repairs and organize all of the pathways and important information we learned during the day.
So as a high-performing musician, rest is an essential part of our superhero journey. How are you making room for rest?
😎 RECHARGE
Sometimes, our batteries are on empty 🪫and we need to fill up with rest, but ALSO to recharge that battery.
This means continuing to find inspiration, joy, and happiness in our lives. This comes from going to concerts, museums, reading for pleasure, and seeing friends. This could ALSO mean snuggling up with your favorite series & takeout pizza. Everyone is different, and that's beautiful. What brings YOU joy & inspiration?
🤩 REGULATE
When we learn self-regulation, we are able to understand our feelings, make friends with our minds, and regulate our nerves & other big emotions.
This is how we build resilience. Resilience is the ability to hold big feelings, overcome frustrations, and rise up to bigger and bigger challenges.
Knowing your stress profile (check out @nervoussystemneutral
www.NervousSystemNeutral.com
for the stress mascot quiz), having your unique stress antidote, and incorporating performance practice & kinetic integration into your daily practice will transform your performances (and confidence).
⚠️ REMEMBER!

We are cyclical creatures. And we cannot be "ON" all the time. This is natural. We can't expect flowers to bloom all the time, and we can't expect race cars to be at maximum speed 24/7. You will reach your dreams faster when you learn to work with yourself and understand the Spark PATH to Performance.
You got this. And I'm cheering you on. ⚡️❤️🎵🚀
Want to smash your next audition?
Comment "accelerator" to get the SPARK Audition Accelerator, your secret formula to acing your audition and feeling invincible on stage. Take it to your teacher or use it for self study to have your best auditions ever.
Stay Connected &
IGNITE THE SPARK

Get actionable practicing and performing tips delivered to your inbox.
Performance confidence is a marathon, not a sprint.
We'll guide you to the finish line with better roads and expert advice.
No SPAM, only SPARKLE. We will never sell your information, for any reason.